Instant-Monitor.com created the topic: RAISE-UP - raise-up.org
Я не админ и не владелец проекта, админа не знаю!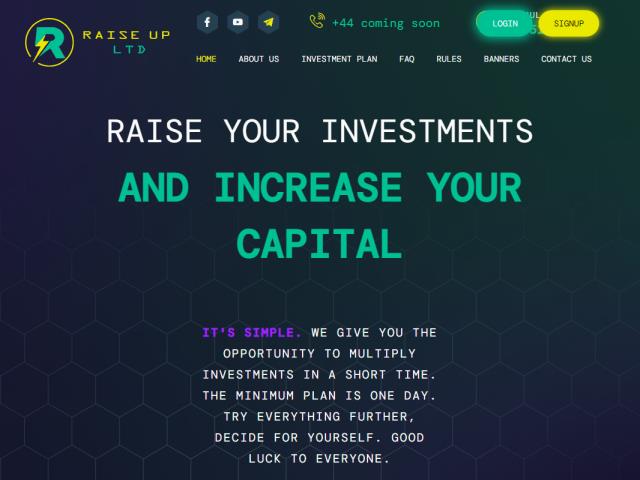 Старт:
воскресенье, 18 июля 2021
Выплаты:
Manual (up to 24 business hours, minimum withdrawal amount is $1 and for crypto is $50)
Реф-предложение
5% - 2% - 1%
Тех. данные
(информация взята с ресурсов ISP и HyipLogs):
Domain: NameCheap, Inc., 2021-07-13 - 2022-07-13 (registered for 1 year)
SSL: Cloudflare Inc ECC CA-3 valid from 13 Jul, 2021 to 13 Jul, 2022 - Cloudflare, Inc.
Hosting: Cloudflare, Inc
IP-address: 104.21.37.153 (United States / Chicago) IP not used in other projects
Script: GoldCoders Licensed
Similar text HYIPs: 0
Similar design HYIPs: 6
Легенда (оригинал):
RAISE UP LTD is a thesis-driven investment firm that invests in cryptocurrencies, tokens, and blockchain companies reshaping trillion-dollar markets. We manage a hedge fund and a venture fund, investing across both public and private markets. Since founding the firm in November 2020 we've developed a reputation for being forward-leaning, independent thinkers. We are known for pioneering token economic models, valuation methodologies, and challenging long-standing assumptions that the crypto ecosystem takes for granted. Crypto is the first inherently global asset class, and we've built our team around the world, with a presence in London, New York City, and Beijing. As a crypto-native fund, we actively participate in networks via staking, keeper operations, liquidations, and more. Moreover, we are intimately familiar with the crypto technology landscape and market structure. We are hands-on investors, and will do everything in our power to maximize the success of our portfolio companies. Today, we manage both long-term and short-term capital on behalf of legendary venture funds, family offices, institutions and individuals.
Машинный перевод:
RAISE UP LTD - это инвестиционная компания, основанная на диссертациях, которая инвестирует в криптовалюты, токены и блокчейн-компании, меняя рынки с оборотом в триллионы долларов. Мы управляем хедж-фондом и венчурным фондом, инвестируя как на государственных, так и на частных рынках. С момента основания компании в ноябре 2020 года мы заработали репутацию дальновидных и независимых мыслителей. Мы известны новаторскими экономическими моделями токенов, методологиями оценки и оспариванием давних предположений, которые крипто-экосистема принимает как должное. Криптовалюта - это первый по своей сути глобальный класс активов, и мы создали нашу команду по всему миру, с присутствием в Лондоне, Нью-Йорке и Пекине. Будучи криптовалютным фондом, мы активно участвуем в сетях посредством стекинга, операций по хранению, ликвидации и многого другого. Более того, мы хорошо знакомы с ландшафтом криптотехнологий и структурой рынка. Мы - практические инвесторы и сделаем все, что в наших силах, для максимального успеха наших портфельных компаний. Сегодня мы управляем как долгосрочным, так и краткосрочным капиталом от имени легендарных венчурных фондов, семейных офисов, организаций и частных лиц.
Принимает:
Bitcoin, Ethereum, Litecoin, NixMoney, Perfect Money, Bitcoin Cash, Dogecoin, Dash, Ripple (XRP), Tron (TRX), Monero (XMR), Tether USD (USDT.ERC-20), Tether USD (USDT.TRC-20), Binance Coin (BNB)
Perfect Money:
Инвестиционные планы:
$10 - $200000: 4% - 20% ежедневно и навсегда
$10 - $200000: 103% - 140% через 1 день
$10 - $200000: 110% - 250% через 3 дня
$10 - $200000: 124% - 450% через 7 дней
$10 - $200000: 270% - 1280% через 17 дней
$10 - $200000: 550% - 3200% через 45 дней
$25000 - $200000: 1000% через 5 дней
$15000 - $200000: 2300% через 12 дней
$5000 - $200000: 4000% через 20 дней
Registered company profile:
https://find-and-update.company-information.service.gov.uk/company/13018871
Company Address:
https://goo.gl/maps/SMEY6xpZZ4iyFqLV8
Telegram:
https://t.me/supp0rt_raise_up

202.00 USD: The amount of 202.00 USD has been withdrawn from your account. Accounts: U17225312->U32611544. Memo: Shopping Cart Payment. From InstantMonitorCom.. Date: 10:57 21.07.21. Batch: 407130511.
Эта тема была создана с целью информации. Я не несу ответственности за ваши решения!