Instant-Monitor.com created the topic: MAXBANKER - maxbanker.net
Я не админ и не владелец проекта, админа не знаю!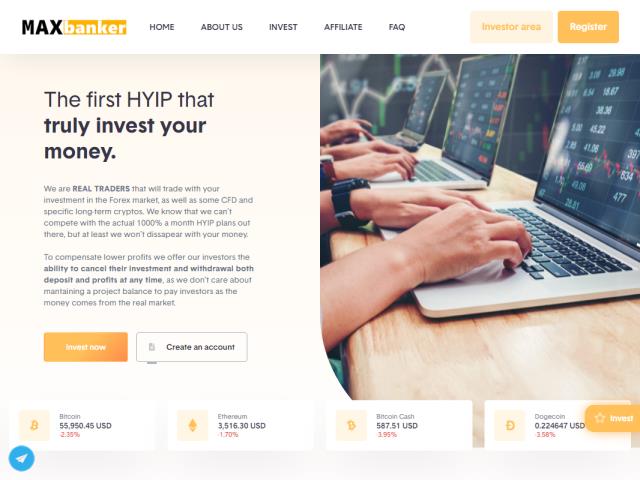 Старт:
вторник, 12 октября 2021
Выплаты:
Instant (min withdrawal amount is $0.1 and $10 for BTC (Bitcoin withdrawal fee is 0% fee + 1$))
Реф-предложение
0.5% - 0.2% - 0.1%
Тех. данные
(информация взята с ресурсов ISP и HyipLogs):
Domain: NameCheap, Inc., 2021-08-17 - 2022-08-17 (registered for 1 year)
SSL: Free SSL valid from 03 Oct, 2021 to 01 Jan, 2022 - Let's Encrypt
Hosting: Ddos - Guard Ecuador
IP-address: 186.2.161.232 (Belize / Belize City) IP used in 2 projects / 0 payings
Script: GoldCoders Licensed
Similar text HYIPs: 0
Similar design HYIPs: 8
Легенда (оригинал):
We are REAL TRADERS that will trade with your investment in the Forex market, as well as some CFD and specific long-term cryptos. We know that we can't compete with the actual 1000% a month HYIP plans out there, but at least we won't dissapear with your money. To compensate lower profits we offer our investors the ability to cancel their investment and withdrawal both deposit and profits at any time, as we don't care about mantaining a project balance to pay investors as the money comes from the real market. We aim to be the first HYIP that provides this kind of service.
Машинный перевод:
Мы НАСТОЯЩИЕ ТРЕЙДЕРЫ, которые будут торговать вашими инвестициями на рынке Форекс, а также некоторыми CFD и конкретными долгосрочными криптовалютами. Мы знаем, что не можем конкурировать с существующими планами HYIP на 1000% в месяц, но, по крайней мере, мы не исчезнем с вашими деньгами. Чтобы компенсировать более низкую прибыль, мы предлагаем нашим инвесторам возможность в любой момент отменить свои инвестиции и вывести как депозит, так и прибыль, поскольку мы не заботимся о поддержании баланса проекта для выплат инвесторам, поскольку деньги поступают с реального рынка. Мы стремимся стать первым хайпом, который предоставляет такой вид услуг.
Принимает:
Bitcoin, ePayCore
Инвестиционные планы:
$25 - $299: 0.10% ежедневно навсегда (вывод основной суммы доступен немедленно с 5% комиссией или без комиссии через 20 дней)
$300 - $1499: 0.13% ежедневно навсегда (вывод основной суммы доступен немедленно с 5% комиссией или без комиссии через 20 дней)
$1500 - $4999: 0.16% ежедневно навсегда (вывод основной суммы доступен немедленно с 5% комиссией или без комиссии через 20 дней)
$5000 - $50000: 0.20% ежедневно навсегда (вывод основной суммы доступен немедленно с 5% комиссией или без комиссии через 20 дней)
Telegram:
https://t.me/MaxBankerInv

603.00 USD: Operation ID: 585606601731
Operation Date: 12.10.2021 19:08
Status: Completed
Amount: 603 USD
Consignee account: ePayCore U350138491097
Amount received: 603 USD
Processing fee: 0 USD
Note:
Deposit to MaxBanker from InstantMonitorCom

Cтраховка для инвесторов:
$1000
Детали и правила страховки
Эта тема была создана с целью информации. Я не несу ответственности за ваши решения!